03.12.14
Murkowski Presses Cabinet Secretary on Arctic Agenda
Senator Asks DHS Director about Commitment to Region, Icebreaker Investments
WASHINGTON, D.C. – Senator Lisa Murkowski today took the opportunity of Department of Homeland Security Director Jeh Johnson's appearance before the Appropriations Committee to drill down on DHS' vision of the nation's Arctic future, given the lack of details and prioritization specified in the Obama Administration's 2015 budget. Though Secretary Johnson testified that DHS is focused on the commercial potential in the region, Murkowski will continue to seek answers for how the White House views the Arctic region, and its action plan for the crucial next few years.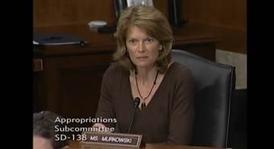 (Senator Murkowski asks DHS Director
Johnson about his views on the Arctic – Click to watch.)
Senator Murkowski opened up her questioning of Secretary Johnson by saying:
"I want to ask you the same question I will be asking all of the Secretaries throughout the appropriations hearing, and that is to define or clarify, from your Department's perspective, where this administration is placing its budget priorities when it comes to the Arctic."
Johnson's first response spoke to the need for added attention and greater investment in the United States Coast Guard:
"I believe our priorities in the Arctic are increasing commerce there… People may debate the cause, but as the Coast Guard has observed more open water, that means more commerce. Therefore, we need an increased Coast Guard presence in the Arctic, which is why we need a recapitalization of Coast Guard forces – that to me, is first and foremost, in terms of where we need to be making our investments there."
Senator Murkowski then pursued the issue of America's need for icebreakers, making her final question a three part query:
(DHS Secretary Johnson answers
questions about the nation's need for icebreakers – Click to watch.)
"How many heavy icebreakers do you think we need to keep us safe and protect Arctic interests, does the Coast Guard have plans for additional icebreaking capability as we advance the Arctic strategy, and are there plans to recapitalize and repurpose the POLAR SEA which is currently up in dry dock right now."
To the larger issue of America's need for more icebreakers, Secretary Johnson concluded his response by saying:
"I do recognize the importance of having heavy ice breakers, not just for maritime security, but to keep the flow of commerce open in the Arctic and other places. That is the principal reason we have them and the ones we have are pretty effective at doing that. I'm not familiar with the particular assessment that we need three, I'm happy to look at it, but it's something that I've paid close attention to in listening to the Coast Guard about what their needs are."
In the coming weeks, many department heads will be testifying before the Senate regarding their priorities, and Senator Murkowski will be seeing how the administration's priority are aligned with Alaska's unique needs.
###
---