03.21.23
Murkowski Recognizes Alaska Education Board's Selection of Tribes for Native Education Pilot Program
Innovative State-Tribal Education Compact focus of 2022 U.S. Senate Committee on Indian Affairs field hearing chaired by Murkowski
Washington, DC – U.S. Senator Lisa Murkowski (R-AK) today recognized the selection of five Alaska Tribes by the Alaska Board of Education and Early Development to begin negotiation on a demonstration State-Tribal Education Compact (STEC) in Alaska. The five Tribes selected are:
Inupiat Community of the Arctic Slope
Ketchikan Indian Community
King Island Native Community
Knik Tribe
Central Council of the Tlingit and Haida Indian Tribes
"The state-tribal education demonstration initiative is an innovative approach to improving educational opportunities and outcomes for K-12 Native students in Alaska," said Senator Murkowski. "Empowering the five pilot Tribes to develop educational programs rooted in respect for Native culture and language is a local solution for reducing disparities and closing the achievement gap facing Native students. Tribal education compacting is yet another tool to further self-determination for tribes."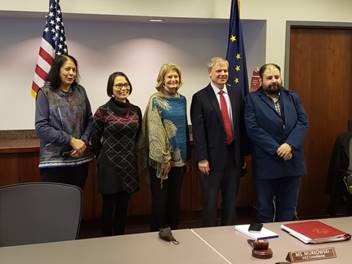 Pictured: Senator Murkowski with Alaskan Witnesses and Native Leaders following a field hearing in Anchorage on February 24, 2022
Background

Support for STEC was featured at a U.S. Senate Committee on Indian Affairs field hearing in Anchorage in February 2022 that was chaired by Senator Murkowski, the Vice Chair of the Committee. The field hearing included testimony from President of the Alaska Federation of Natives, Ms. Julie Kitka; former Commissioner of the Alaska Department of Education and Early Development, Dr. Michael Johnson; Vice President of Shareholder Relations for the NANA Regional Corporation; and First Vice Chair of Alaska State Board of Education and Early Development, Ms. Sandra Salaktuna Kowalski; and General Manager of Sea Lion Corporation, Mr. William Naneng.
In May 2022, the Alaska State Legislature approved Senate Bill 34, which authorized the state-tribal education demonstration with five Indian Tribes or tribal organizations for a period of five years. Included in SB 34 is a required report from the Alaska Board of Education and Early Development to the Alaska State Legislature that will include recommendations and draft legislation on establishing STECs and compact schools with Indian Tribes or tribal organizations in the state.
Video and witness testimony from the field hearing are available here.
---