04.30.14
Murkowski "Shocked" at National Guard's Lack of Intervention on Sexual Assault
Senator: What Did the National Guard Know and When Did It Know It?
WASHINGTON, D.C. – Senator Lisa Murkowski today pressed the National Guard's Chief about whether it is able to adequately pursue answers and justice when allegations of sexual assault arise among members of the Alaska National Guard – saying she is "surprised and shocked that the National Guard says it has no power to pursue them" at the state level.
In a hearing of a Senate Appropriations Subcommittee, Murkowski asked General Frank J. Grass why more wasn't done by the National Guard when accusations of sexual assault were made among the ranks. She drilled down on the point when she asked General Grass "What did the National Guard know and when did it know it?"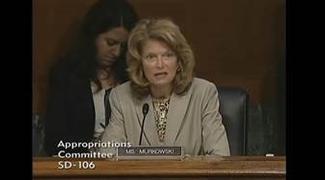 (Murkowski: I'm shocked and surprised at the lack of action by the National Guard – Click to watch)
Admitting that he walks a fine line in working with Governors and Adjutant Generals when it comes to activities in the states, Grass indicated that the National Guard Bureau has the authority and the resources to conduct investigations into sexual assault in state guard units – some aspects of which have been made available for the first time over the past two years since the creation of the Office of Complex Investigations.
Murkowski thanked him for his answer, but immediately followed up with a request that he meet with her soon to assure her the current processes are adequate."
---