01.21.13
Murkowski Speaks About Martin Luther King, Jr's Message
Senator Cites His Resonance in the Resilience of Alaskan Culture
WASHINGTON, DC – Senator Murkowski today issued the following statement in honor of Dr. Martin Luther King, Jr.:
"2013 marks the fiftieth anniversary of the 'I have a dream speech' on the steps of the Lincoln Memorial. As our nation honors the legacy of the Reverend Dr. Martin Luther King Jr. today, let us remember the fortitude and resolve Dr. King held towards achieving that dream for his four little children and generations of Americans to come.
"This month, as we celebrate the life of this important civil rights leader, let us be inspired by Dr. King saying 'I have a dream that one day this nation will rise up and live out the true meaning of its creed: "We hold these truths to be self-evident, that all men are created equal.' It is a fight we continue to make progress in to this very day for every man woman and child in the United States.
"But there is another less-known quote of Dr. King's that has a particular appeal to Alaskans, who are resilient and tough. It is "the ultimate measure of a man is not where he stands in moments of comfort and convenience, but where he stands at times of challenge and controversy." We Alaskans know about being pushed to the limits and succeeding. Our ambition and fortitude makes us the special state we are today. Like Dr. King, I believe that life begins at the edge of our comfort zone; we should not back away from new challenges, we should see these opportunities as the cost of progress and improvement.
"This January, let us not only remember Dr. King for his accomplishments, but for his legacy that inspires us all to reconsider the limits and status quo and driving for a better America. Because it is through action, vision and persistence that big things are achieved."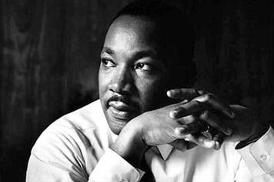 (Dr. Martin Luther King, Jr. 1929—1968)
# # #
Note: Please do not reply to this email. This mailbox is unattended. For further information, please contact Senator Murkowski's press office at 202-224-9301 or
202-224-8069. Visit our website at https://www.murkowski.senate.gov
---