01.05.23
Murkowski, Sullivan Applaud Bill to Recognize the Legacy of the Late Congressman Don Young Signed into Law
Volcano, Federal Office Building & Job Corps Center to be Named After Young
Today the Don Young Recognition Act was signed into law. U.S. Senators Lisa Murkowski and Dan Sullivan (both R-AK) championed this legislation in an effort to honor the life and legacy of the late Don Young, Dean of the House and Congressman for All Alaska, who passed away on March 18, 2022 after serving Alaska in the House of Representatives for 49 years.
The bill designates one of the most active volcanoes in the Aleutian Islands, currently known as Mount Cerberus, as Mount Young. In addition, the bill recognizes Congressman Young's lifelong contributions to Alaska by designating the Federal office building in Fairbanks as the Don Young Federal Office Building and the Job Corps Center located in Palmer as the Don Young Alaska Job Corps Center.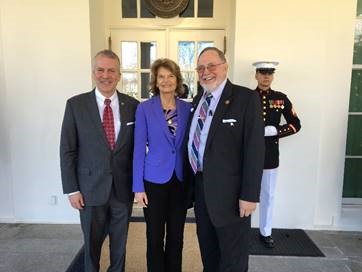 Senators Sullivan and Murkowski with the late Congressman Don Young
at the White House for a bill signing in 2019
"Congressman Don Young was a champion for Alaska in Washington D.C. for nearly five decades. For those who didn't have the honor and privilege of knowing Congressman Young, he lived, loved, and bled Alaska—he was truly a larger than life individual. He stood up for Alaskans day in and day out, and championed transformative legislation for the betterment of our people," said Senator Murkowski. "I'm proud that we were able to advance this legislation across the finish line, and honor a man who devoted his life to our great state and the people who call it home."
"My fellow delegation members and I thank our colleagues for making this important legislative honor a reality for our larger-than-life congressman and the people of Alaska who he served for nearly a half century," said Sen. Sullivan. "Whether it was fighting hard for countless federal investments, projects, or economic opportunities for Alaskans, Don stood up for Alaska every day. Congressman Don Young's name will now grace lands and projects in our state in recognition of his important legacy. That includes a rumbling Aleutian volcano – a symbol that perfectly captures Don's authentic, tenacious, indomitable Alaskan spirit. Mt. Young, the Don Young Alaska Job Corps Center, and the Don Young Federal Building will remind future Alaskans about this once-in-a-generation public servant and all that he accomplished for the people and state he loved so much. We miss him every day."
Background:
Following Congressman Young's passing, Senators Murkowski and Sullivan introduced a resolution which passed the Senate unanimously in March of 2022, celebrating Congressman Young's life and legacy.
Following Senate Passage of the legislation, on December 13, Senators Murkowski and Sullivan spoke on the Senate floor in support of the Don Young Recognition Act, and in honor of the late Congressman.
To watch Senator Murkowski's floor speech, click here.
To watch Senator Sullivan's floor speech, click here.
---