04.03.21
Murkowski, Sullivan Welcome Phase II CDC Guidance for Cruise Ship Industry
U.S. Senators Lisa Murkowski and Dan Sullivan (both R-Alaska) today released the following statement after being briefed by Dr. Rochelle Walensky, Director of the Centers for Disease Control and Prevention (CDC) on publication of the CDC's Framework for Conditional Sailing Order (CSO). The steps released today are required for the cruise ship industry to safely return to passenger operations as the successful distribution of COVID-19 vaccines brings the pandemic under greater control. The CDC's first CSO phase guidance was issued in October of 2020. The Senators and Congressman Don Young (R-Alaska) have been raising concerns about the delay in further guidance being offered to the industry, which supports tens of thousands of jobs in our small businesses and more than one billion dollars in economic activity in Alaska each year.
"Until today, the cruise industry has been one of the only industries completely precluded from resuming operations. Without cruise ship passengers, Alaska's tourism-dependent businesses and communities have endured well over a year of lost revenue due to the COVID-19 pandemic and the resulting travel restrictions," the senators said. "This lack of guidance on how to safely resume operations has created a dramatic negative ripple effect on Alaska families, businesses, ports and communities that rely on the cruise industry and its passengers. We have been urging the CDC to release any actionable safe cruising guidance for months, recognizing how vital cruise travel is to Alaska's extensive tourism economy.
"There is still a lot of work for the cruise lines and our port communities to do to implement the CDC instructions issued today, but we are encouraged by Dr. Walensky's projections that, with this guidance and timely implementation of the next phases, we could see cruise ships in U.S. waters as early as mid-summer.
"In order to hit this target, the new CDC guidance will require much work by local communities and our state government. Our teams are working around the clock to help however we can to meet this goal. We also want Alaskans to know that we continue to push our Alaska Tourism Recovery Act to alleviate restrictions for cruise ships transporting passengers between Washington and Alaska, and we will continue to urge the Canadian government to again allow Alaska-bound cruise ships to operate in Canadian waters or to consider a limited stop in their waters in the meantime."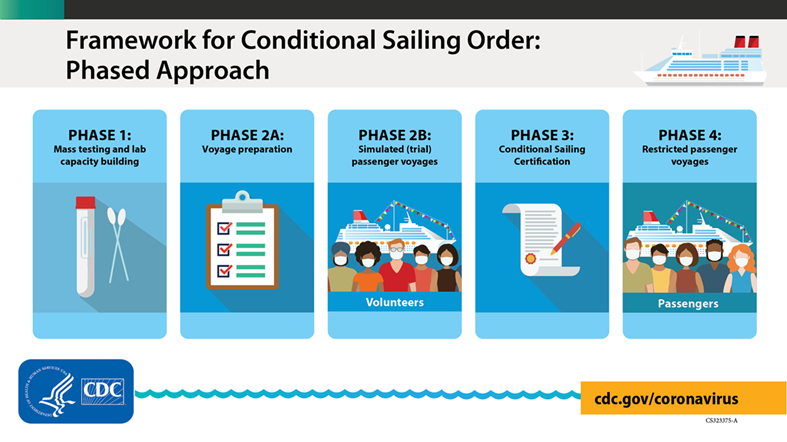 Graphic provided by the CDC illustrating phased approach to returning cruise industry to operations.
According to the CDC, the technical instructions for this phase of the CSO includes:
Increasing from weekly to daily the reporting frequency of COVID-19 cases and illnesses.
Implementing routine testing of all crew based on each ship's color status.
Updating the color-coding system used to classify ships' status with respect to COVID-19.
Decreasing the time needed for a "red" ship to become "green" from 28 to 14 days based on the availability of onboard testing, routine screening testing protocols, and daily reporting.
Creating planning materials for agreements that port authorities and local health authorities must approve to ensure cruise lines have the necessary infrastructure in place to manage an outbreak of COVID-19 on their ships to include healthcare capacity and housing to isolate infected people and quarantine those who are exposed.
Establishing a plan and timeline for vaccination of crew and port personnel.
On March 9, the Alaska congressional delegation sent a letter to Dr. Walensky urging the CDC to act quickly on the next phase of guidance so that port communities in Alaska have time to implement new CDC requirements in order to welcome cruise vessels.
On March 25, the Alaska congressional delegation joined members of the Florida congressional delegation in sending a letter to Jeffrey Zients, the White House COVID response coordinator, urging the Biden administration to be more transparent and timely in their efforts to develop guidance for the resumption of operations for the cruise ship industry.
In addition to working tirelessly with the CDC to encourage prompt release of technical guidance, the delegation continues to pursue legislative or administrative solutions to address the closure of Canadian ports to large cruise vessels due to the pandemic, a policy that prevents passenger vessels from transiting to Alaska from Seattle. On March 5, the Alaska delegation introduced the Alaska Tourism Recovery Act to provide a temporary fix to alleviate the Passenger Vessel Services Act (PVSA) and other restrictions for cruise ships transporting passengers between the State of Washington and the State of Alaska.
---