07.15.22
Murkowski Takes Interior to Task Over Project Delays in Alaska
Presses Biden Administration on Wildfires, Oil and Gas Leasing, Critical Minerals, Ambler Road, and More
U.S. Senator Lisa Murkowski (R-AK), Ranking Member of the Interior Appropriations Subcommittee, this week raised a range of her criticisms and concerns over the Department of the Interior's (DOE) decisions (or lack thereof) on Alaska-related resource matters, including the need for the agency to properly respond to wildfires threats. The Senator's comments and questions came during an oversight hearing to examine the President's Fiscal Year 2023 (FY23) budget request for DOI.
In one piece of positive news, Murkowski expressed appreciation for the release of the draft Supplemental Environmental Impact Statement for the Willow project in the National Petroleum Reserve-Alaska, while reiterating the need for that project to advance to final approval without further delay so that the 2022/2023 winter construction season is not lost. Murkowski criticized the Department on its recent decision to cancel an offshore lease sale in Cook Inlet, its continued refusal to implement the 1002 Area oil and gas program, the unnecessary setbacks it has dealt the Ambler Access Project, and its fundamental policy incoherence on domestic mineral development.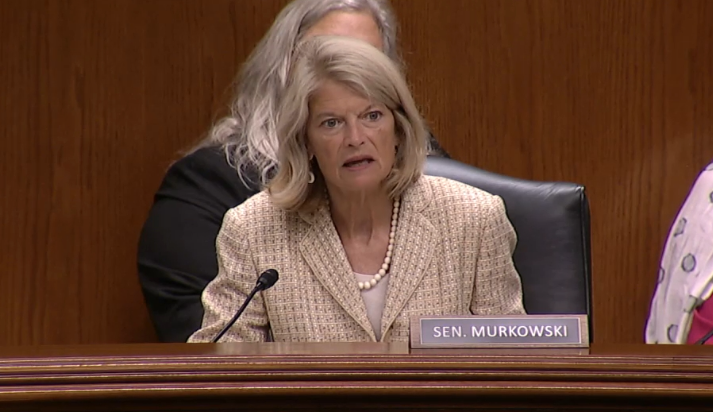 In her opening statement, Murkowski spoke to Alaska's record-setting wildfire season. There have been over 500 fires in the state so far this year, many started by lightning strikes and fueled by dead trees that succumbed to the spruce bark beetle outbreak.
"It's pretty tough in Alaska right now, with up to about 2.8 million acres burned already. We had 13 new fires just in the past 24 hours. The smoke issues, particularly in the Interior, have been a real challenge this summer. But we've seen it out in other parts of the state as well. It's dry. The good news right now is that the rains are coming. That is a positive, but we need to make sure that we're not just praying for rain as our policy to ensure that the fire threat doesn't bring about further damage," Murkowski said.
During the question-and-answer portion of the hearing, Murkowski called on Interior to properly respond to wildfires threats, asking Secretary Deb Haaland for an update on how quickly the administration will distribute the funding it received for wildfire mitigation and preparedness under the bipartisan Infrastructure Investment and Jobs Act, which Murkowski helped author and shepherd into law.
"The Department of the Interior received $1.5 billion in the infrastructure bill for wildfire mitigation and preparedness. I think it goes without saying, but Alaska desperately needs funding to conduct hazardous fuels reduction. Can you tell me how much of the infrastructure money has been distributed and how soon you expect to see that funding get out the door?"
Haaland replied that the Wildland Fire Management Program allocated $407 million in 2022. She also shared that DOI and the U.S. Forest Service have announced an additional $20 million to be paid out as a supplemental salary payment for wildland firefighters; that funding also came from the new infrastructure law.
---