10.31.11
Murkowski Tours "The Future of the Coast Guard" Cutter
Senator Meets Alaskans from Homer, Talkeetna, North Pole, Vice Admiral Brown
WASHINGTON, DC - Senator Murkowski today toured the United States Coast Guard Cutter Stratton (WMSL-752) - the newest cutter in the fleet - as it transited the Chesapeake Bay, taking advantage of the visit to meet several Alaskans on board, along with Vice Admiral Manson Brown, Commander of the Pacific Area.
"Alaska's waters are the future of fisheries, shipping, commerce, and tourism - so I wanted to take full advantage of an opportunity to visit a ship that represents the future of the Coast Guard," said Murkowski. "The Stratton is going to be in the Bering Sea next year, so this was my way of saying an early 'Welcome to Alaska.'"
The United States Coast Guard Cutter Stratton contains the latest technology for a homeland security vessel, and will be responsible for law enforcement, search and rescue, defense operations, and homeland security - with a target of Spring 2013 to begin full operational capability. It will be homeported in California, but will have port calls including San Diego, Kodiak, and Honolulu in the U.S., and foreign destinations such as Mexico, Costa Rica, Panama, Guatemala, El Salvador and Ecuador.
Pictured: LCDR Benjamin Strickland, Homer; Captain Charles Cashin, Homer; Senator Murkowski; BM3 Desirae Strang, Talkeetna; ITC Daniel A. Von Kaufmann, North Pole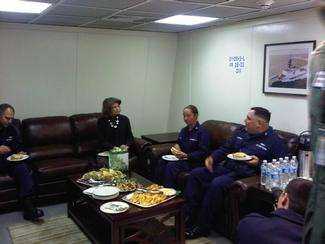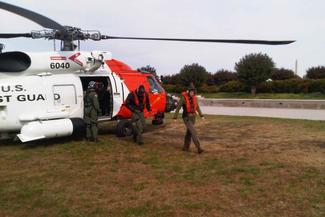 ###
---