03.29.12
Murkowski Touts Alaskan Seafood at Senate Oceans Caucus
Senator: "We're Proud of What We Do and How We Do It"
WASHINGTON, D.C. – Senator Lisa Murkowski, co-chair of the U.S. Senate Oceans Caucus today hosted a briefing of the bipartisan group – this meeting focusing on American seafood jobs and the importance of the U.S. seafood industry to our national and coastal region economies. The experts offering testimony represented the seafood industry in the Gulf of Mexico, West Coast, Chesapeake Bay and New England.
She opened the discussion with the following statement:
"In the state of Alaska, this is our number one private sector job creator – and we are darned proud of how we have been able to continue a tradition of harvesting from the sea and doing it in a manner that is responsible, that works well. We actually have written into our constitution the principles of sustained yield, maximum yield and doing so with an eye towards conservation and an eye towards sustainability.
"We're proud of what we do and how we do it, and the jobs that are created for Alaskans and their families."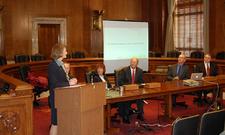 (Senator Murkowski gives opening remarks at Senate Oceans Caucus briefing – CLICK to watch)

Senator Murkowski continued her remarks by encouraging her Senate colleagues on the Oceans Caucus to use the discussion as "a resource" to improve and strengthen a true "Made in the U.S.A." industry. She recommended that the conversation pursue two policy aims – added job creation in the seafood industry and creating new opportunities in the consumer market.
###
---