06.07.12
Murkowski "Unconvinced" Federal Internet Policies Helping Rural Alaska's Small Businesses
Senator Pushes FCC, Says Reforms "Sound Wonderful On Paper"
WASHINGTON, D.C. – Senator Murkowski today challenged the Federal Communications Commission on whether reforms meant to help small rural telecommunication companies maintain service in Alaska truly address their unique needs or leave them "feeling on the ropes" and financially threatened. Murkowski took advantage of a hearing of the Senate Committee for Indian Affairs to bring these concerns to light with FCC Commissioner Mignon Clyburn.
In her opening remarks (clip one), Senator Murkowski pointed out how Alaskans face logistical challenges shared by no other state, referring to an Alaskan witness who works to cover 92,000 square miles of territory on a modest budget. She also cited how Alaskans are beginning to benefit from the "critical lifeline" presented by opportunities like telemedicine, where patients can teleconference across vast distances to get a diagnosis or medical advice.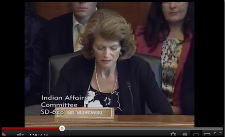 (Clip One)
(Clip Two)
Things got testy when Senator Murkowski questioned FCC Commissioner Mignon Clyburn (clip two) about whether reforms involving existing loans to small telecommunications companies may hinder their ability to pay them off and put their entire business model in question. Clyburn admitted that there were "significant concerns" and "frustration," but the FCC is attempting to make their policies more flexible through a waiver process that many in Alaska reportedly find expensive and burdensome.

Senator Murkowski's response: "I think it sounds wonderful on paper. I'm not convinced and I don't think our small [telecommunications companies] in Alaska are convinced that this waiver process will be there and what you are proposing will be adequate to their needs."
# # #
---