07.03.13
Murkowski Unites POW's Family With Alaskan Who Honored Him For Decades Wearing Bracelet
Senator's Office Connects Alaskan, Vietnam MIA/POW Family Through Bracelet, "The Not Knowing Is the Hard Part"
ANCHORAGE, AK —This Independence Day 2013, a small narrow metal band has connected the Lower 48 family of a United States Air Force Missing in Action-Prisoner of War (MIA/POW) from the Vietnam War with an Alaskan woman who – despite never having met this pilot or spoken with – started wearing his commemorative bracelet during the war and thought of him and prayed for him for decades. Through the efforts of Senator Lisa Murkowski's staff, Virginia Spreen of Wasilla was able to track down the pilot's sisters and call them to talk about his life, share stories about the war and their concerns over the missing man.
The story begins in 1970, when Captain Park G. Bunker's airplane was shot down over Laos during a top secret mission in the Vietnam War. Shortly after his disappearance on the other side of the world, Virginia Spreen picked up a bracelet bearing his name and loss date at the Veterans Administration building in Anchorage. Now nearly 90 years old, Virginia wore a POW bracelet in Captain Bunker's honor for decades.
Wasilla resident Virginia Spreen wears her Vietnam POW bracelet in honor of Captain Park Bunker, whose plane was shot down over Laos in 1970
"I got the bracelet in Anchorage in the 1970s because I didn't like how the Vietnam veterans were being treated," recalls Virginia Spreen. "The men that went into war, they didn't like war, but they went. Uncle Sam called them or they volunteered, but they fought so that everyone else has the freedom to do what they are doing. I wore that bracelet for years and years. I was trying to return it to his family for years, but the Air Force couldn't help me. I contacted Lisa's office and they got right on it."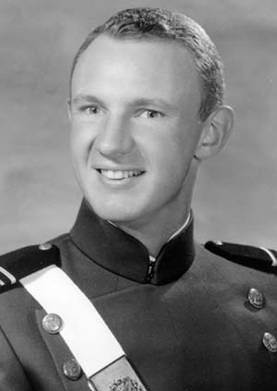 Captain Park G. Bunker (Photo courtesy www.togetherweserved.com)
Virginia wanted to get the bracelet back to Captain Bunker's family after the many years she had spent supporting him and worrying about him, but she didn't know how. She tried official military channels for years, but hit procedural road blocks and was unsuccessful in finding any of Bunker's relatives. After doing everything she could imagine, Virginia contacted Senator Murkowski's office last month where, within two days, Greg Kaplan – the Senator's Anchorage Military and Veterans Liaison – was able to locate two of Captain Bunker's sisters. At the end of June, just days before Virginia went in for surgery, Senator Murkowski's office connected her with Park Bunker's sisters over an emotional phone call at Virginia's Wasilla Home.
CLICK HERE TO WATCH VIDEO OF THE PHONE CALL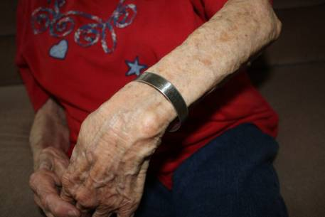 Virginia's bracelet reads: "CAPT. PARK G. BUNKER, USAF 12-30-70 LAOS"
"I think it is a wonderful, wonderful thing that someone else besides our family was worried about Park," sister Patricia Shivers said during the phone call from Knoxville, TN. "We still don't know exactly what happened to him, but it is comforting to know that Virginia was worried and praying right along with us."
The bracelet bearing Captain Park Bunker's name has been sent back to his sisters, who say this is only the second POW/MIA bracelet they have ever received. The Bunker family is still looking for answers about their brother's disappearance.
---