06.03.12
Murkowski Visits Shell's Arctic Drilling Vessel in Seattle Shipyard
WASHINGTON, D.C. – U.S. Senator Lisa Murkowski, R-Alaska, today toured the Kulluk drilling vessel in Seattle. Shell plans to use the Kulluk this summer to explore for oil and natural gas in Alaska's Beaufort Sea.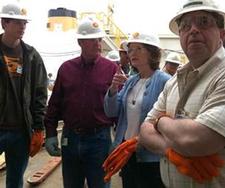 Sen. Lisa Murkowski (second from right) and Shell Alaska Vice President Pete Slaiby (right) tour Shell's ice-class drill ship, the Kulluk, in Seattle on Sunday.
"It's inspiring to see the Kulluk up close and know that it's on the verge of opening a new era of Arctic exploration that promises to deliver greater energy security and economic prosperity to Alaska and the nation," Murkowski said. "The size and strength of Shell's Arctic fleet is both impressive and reassuring. I'm confident the company is well prepared to drill in our northern waters this summer."
The Arctic waters off Alaska's northern coast contain an estimated 27 billion barrels of oil and 132 trillion cubic feet of natural gas, according to the federal government. Their development is estimated to create more than 50,000 jobs nationally.
"Shell's investment in its Arctic exploration fleet is not just an example of the company's commitment to safety and preparedness, it's also an example of the huge economic impact these operations have beyond Alaska," Murkowski said.
Once Shell receives the final approval to drill from the U.S. Department of the Interior, the company plans to use the Kulluk and a second drill ship, the Noble Discoverer, to drill exploratory wells in Alaska's Beaufort and Chukchi seas this summer. Shell hopes to leave for Alaska's Arctic waters by mid-June. Murkowski has been pressing the Obama administration for the past three years to remove unnecessary bureaucratic hurdles and to issue permits in a timely fashion.
"We are closer than we've been in a long time to seeing renewed exploration in our Arctic waters," Murkowski said. "It's a momentous time and I'm proud of the work that's gone into it. This summer will be the first of many major milestones toward a more secure energy future and a brighter economy for Alaska and the entire nation."
The Kulluk, one of only a handful of ice-class drilling rigs in the world, has previously been used to drill eight wells in the Canadian Arctic and four wells in the U.S. Arctic. The vessel has an inverted, conically shaped, ice-strengthened hull specifically designed for operation in the Arctic. The Kulluk's bowl-like hull is designed to allow ice to pass safely under it. Since buying the drill ship in 2005, Shell has installed nearly $300 million worth of upgrades.
"Alaska's offshore resources represent our greatest potential to get America's economy moving again," Murkowski said. "Drilling has occurred in the waters off Alaska's northern coastline for the past 40 years. I'm confident Shell can continue the tradition of responsibly exploring the Arctic and safely deliver the huge benefits of Alaska's energy resources."
###
---