02.10.14
Murkowski Votes for Senate to Take Up Restoring Full Veterans Benefits
Senator Continues Her Fight to Repeal COLA Cuts in Budget Deal
Senator Lisa Murkowski today cast a vote to begin debate on S.1963, the Military Pension COLA Bill, after over a month of seeking legislative solutions to this issue, saying:
"I have left no doubt that I am committed to restoring the full pension benefits to early military retirees, set to see a 1% cost-of-living cut starting in January of 2016. I have backed a number of sensible pieces of legislation that will deliver on our promise to veterans without digging the nation deeper into debt, and I hope the Senate Majority allows a responsible debate on this issue this week."
The U.S. Senate voted 94-0 to open up debate on this bill.
Background on Murkowski COLA Efforts:
Senator Murkowski voted in support of the bipartisan budget deal in December to set spending levels for the government through Fiscal Year 2015, and avoid a repeat of the turmoil created in Alaska and across the country by the federal government shutdown. However, she opposed one component of the deal: a 1% cut in yearly Cost of Living Adjustments for early military retirees' pensions. This cut would begin in January of 2016, and would only take effect until the retiree reached the official retirement age of 62, at which point they would receive their full pension.
Before the budget deal – brokered by Congressman Paul Ryan (R-WI) and Senator Patty Murray (D-WA) – even came up for a full U.S. Senate vote, Murkowski co-sponsored a measure that would repeal these COLA cuts only to have the Senate Majority Leader refuse to allow any votes on the issue.
When the U.S. Senate began considering an extension of long-term unemployment insurance benefits in January, Senator Murkowski joined with 7 of her Republican Senate colleagues to restore full benefits to our early military retirees as a part of the legislative package. To attract bipartisan support, the 8 Senators used offsets supported by Democrats to pay for the extension. The Majority Leader refused to allow this proposal to come up for a vote, despite the clear efforts to build consensus across party lines.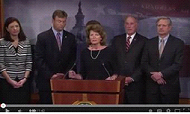 (Senator Murkowski and her Republican colleagues explain their proposal to restore veterans benefits and extend unemployment benefits, January – Click to watch.)
Senator Murkowski remains committed to finding a way to restore these cuts before they take effect, and will continue to work with her Senate colleagues to deliver on the promise made to our men and women who served this country valiantly.
---