02.11.16
Murkowski Votes to Impose Tougher Sanctions on North Korea
Today Senator Lisa Murkowski voted in favor of the North Korea Sanctions and Policy Enhancement Act of 2016, a bill to impose more stringent sanctions on North Korea. The bill passed overwhelmingly in the Senate with a vote of 96-0.
Murkowski spoke on the Senate floor prior to the final vote, saying:
"Alaskans take great interest in this legislation, and it's not simply an intellectual interest. Our geography requires it.
"North Korea is committed to advancing its nuclear capabilities, and its covert nuclear test with the so-called satellite launch over the weekend appears to be a purposeful step in that direction. The reason I raise it is because around the dinner tables in Alaska, people are talking about North Korea, because our geography puts us within that range of sight, if you will. It's real for us.
"North Korea's actions demand decisive action, both here in Washington, D.C., in Beijing, and at the United Nations. The United States and our allies have been patient enough with the carrot. We talk a lot about carrot-and-stick when it comes to engagement, but we have been patient enough with the carrot and now it's time to deploy the stick. The sanctions bill is intended as a serious wake-up call to Mr. Kim's government. The sanctions are severe, and they are targeted at those who enable Mr. Kim's regime to conduct business abroad. They're also intended as a wake-up call to Mr. Kim's advisors, who enjoy a pretty comfortable status quo, thanks to their leadership positions. No more luxury goods. No more creature comforts. No more access to hard currency. No exceptions. This is an important shift for our government with regards to North Korea.
"I believe that it is important that our nation be prepared for anything that may come our way. My home state of Alaska is host to our nation's ground-based missile defense capabilities. I was pleased to read in yesterday's budget announcement plans to make a $1 billion investment in the ground-based missile defense system. Significant investments are also made in the Long Range Discrimination Radar, or LRDR, which is slated for completion by the year 2020. I think that these investments provide an increment of protection. But the truth is, they are second-best to a change in attitude coming out of Pyongyang, and that is truly what I hope we achieve through this sanctions vote that we will take later today."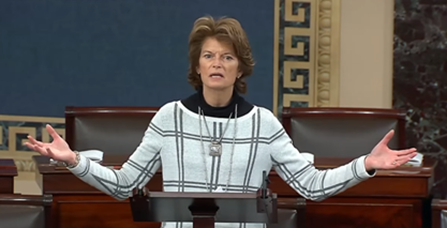 (Click image to watch Murkowski's entire floor speech)
Details of the North Korea Sanctions and Policy Enhancement Act:
The bill requires the president to investigate sanctionable conduct, including proliferation of weapons of mass destruction, arms-related materials, luxury goods, human rights abuses, and activities undermining cybersecurity.
The President is mandated to sanction any person found to have materially contributed to, engaged in, or facilitated the above activities.
Penalties for sanctionable activates include the seizure of assets, visa bans, and denial of government contracts.
The president retains the discretionary authority to sanction those transferring or facilitating the transfer of financial assets and property of the North Korean regime.
The bill requires the Secretary of Treasury to determine whether North Korea is a primary money laundering concern, and if such determination is made, assets must be blocked.
The bill requires a strategy to promote improved implementation and enforcement of multilateral sanctions; a strategy to combat North Korean cyber activities; and a strategy to promote and encourage international engagement on North Korean human rights-related issues.
The State Department is required to expand the scope and frequency of travel warnings for North Korea.
---