01.29.14
Murkowski Welcomes, Lauds Alaskan Air Heroes in DC Visit
Senator Thanks AK Air National Guard Airmen for Service
WASHINGTON, D.C. – Senator Lisa Murkowski today took the opportunity to a visit with three Alaska Air National Guard Search and Rescue Airmen to thank them on behalf of a grateful state for their live-saving work. These airmen are members of the 176th Wing, Alaska National Guard – the busiest Combat Search and Rescue unit in the entire U.S. Air Force – visiting Washington, DC to provide an update of their operations to Lt General Joseph Lengyel, Vice Chief of the National Guard Bureau. They also gave presentations to House and Senate Congressional Defense Committee staffs.
When Senator Murkowski learned of their scheduled visit, she reached out to invite them to her office to meet them personally and share her appreciation with:
Lt Col Michael Griesbaum - Deputy Operations Group Commander
Major Matthew Calabro – Chief of Tactics
Capt Brock Roden - Combat Rescue Officer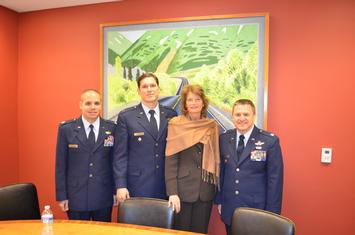 (Senator Murkowski meets with Alaska Air National Guard Airmen – Calabro, Roden, Griesbaum)
"As a United States Senator, I have to work on very serious issues that have immediate impacts on thousands of Alaskans, but these three brave men's daily work literally means the difference between life and death," said Murkowski. "Over the past two decades, this unit has been credited with saving over 2,000 lives – often in the most treacherous of conditions. And the fact they have been deployed in war zones like Afghanistan and disaster areas from Hurricane Katrina to the Galena flood shows that they will travel any distance and bear every burden to make a difference to Americans. I salute them."
All three airmen live in Anchorage. The 176th Wing is based at Joint Base Elmendorf Richardson. A key priority of the 176th Wing and Senator Murkowski is the modernization and eventual replacement of the HH-60 rescue helicopter fleet. Landings on hard terrain in Alaska and Afghanistan have resulted in structural cracks to many aircraft frames. Without immediate modernization, the Wing faces a potential loss of mission capability – and increases safety risks to airmen.
---