05.31.18
Murkowski Welcomes National Labs to Alaska
Sen. Lisa Murkowski, R-Alaska, this week helped kick off the first-ever Alaska National Lab Day by delivering opening remarks highlighting how Alaska's geography, climate, and people have made the state a world leader on energy innovation. The forum, which is being hosted by the University of Alaska, has brought together more than 200 Alaskans, senior leaders from the Department of Energy (DOE), and the National Labs to discuss opportunities to partner on the next generation of clean, affordable energy technologies.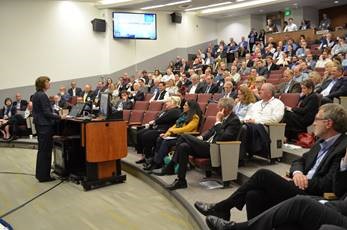 Murkowski speaking at Alaska National Lab Day
"We're excited to host all of you for two excellent days of discussions where we can all learn more about the national labs, Alaska, and how we can form lasting, beneficial partnerships," Murkowski said. "Alaska is truly a living laboratory. We have real challenges, but also unique opportunities that build upon our strengths to help us find the next level of ingenuity, innovation, and great solutions."
Alaska National Lab Day is being held on the campus of the University of Alaska Fairbanks (UAF). Among the attendees are Under Secretary of Energy Paul Dabbar, Assistant Secretary of Electricity Bruce Walker, the directors or deputy directors of 12 National Labs, and a host of elected, academic, and industry leaders from around Alaska.
"Our opportunities are perhaps most visible in our abundant natural resources. When I say Alaska is a storehouse of everything, I mean it – not just oil, gas, and coal, but also resources like methane hydrates," Murkowski said. "We also have every type of renewable resource, from hydropower to wind, solar, geothermal, and biomass, which is allowing our remote villages to add renewables to their microgrids to reduce costs and emissions."
National Lab Day has already featured two major announcements about collaborative research in Alaska. The Pacific Northwest National Laboratory and UAF signed a five-year agreement for a research project on hydropower, marine renewable energy, and underwater technology development, which will help improve energy system resiliency and reliability. DOE also announced a nearly $7 million grant to UAF/Hilcorp for cost-shared research and development of the first-ever polymer flood to enhance the recovery of unconventional oil and gas on Alaska's North Slope, which could improve recovery rates in other geologic formations and environments.
Prior to her keynote remarks, Murkowski participated in a working breakfast with leadership from the University of Alaska, DOE, and National Labs. She met with attendees and attended panels throughout the day, including a discussion of "Alaska as a Living Laboratory" and another focused on Alaska industry and energy.
At lunchtime, Murkowski hosted a roundtable on climate change and energy innovation at the nearby Cold Climate Housing Research Center (CCHRC), which featured a robust conversation about Alaska's efforts to lead on energy innovation as the state addresses the impacts of environmental change, particularly in the Arctic.
Roundtable participants discuss how to move toward a cleaner energy future.
"This roundtable was a great opportunity to bring together Alaskan and national experts for a discussion about the complex challenges that we face," Murkowski said. "In Alaska, we are seeing the impacts of climate change firsthand and also working aggressively to develop technologies that will help reduce our emissions. This discussion will be one of many that we engage in, not only as Alaskans, but as partners focused on a very significant global issue."
The roundtable included participants from CCHRC, the Pacific Northwest National Laboratory, bgC3, the Stanford Precourt Institute for Energy, Intelligent Energy Systems, the Alaska Village Electric Cooperative, the UAF Alaska Center for Energy and Power, and the Alaska Energy Authority.
Murkowski is chairman of the Senate Committee on Energy and Natural Resources, and helped organize Alaska National Lab Day. To follow along with the discussions and events at the conference, the official hashtag on Twitter is #AKNatLabDay.
Related Issues: Energy
---