07.17.14
Murkowski Works for Alaska Military Pay, Priorities in Committee
Senator Leverages Defense Bill to Protect Alaska's Uniformed Services and Projects
Senator Lisa Murkowski today successfully added a number of critical provisions into the 2015 Defense funding bill to improve the Alaska military's ability to save lives and protect the nation, while also lifting troop morale through improvements to their quality of life. Her additional support of military through less tangible means – whether fighting for critical ALS research, keeping commissaries open or delivering high quality nutrition – are reflected in the results of the bill that passed the Appropriations Committee today and heads to the Senate floor.
"When it comes to Alaska's military community and our national security, the bottom line is the bottom line – and we need to back our priorities with funding and resources," said Murkowski. "I thank my Appropriations Committee colleagues for working with me to boost our missile defense, Arctic endeavors, rocket launch capability and aircraft fleet, while also making sure our men and women in uniform get the financial support they richly earn and the health care they deserve. I'm also pleased that today's bill is lean, reflecting serious cuts that eliminate duplicative efforts and programs to make sure we're spending dollars judiciously."
Today's 2015 funding plan includes many Alaskan priorities, like:
Missile Defense Spending Increase: On the heels of the recent successful missile test, Senator Murkowski requested and received an additional $30 million to improve the reliability and maintenance of the Ground Midcourse Defense system at Fort Greely and Vandenberg AFB. Murkowski also ensured funding for the planning and design of a long range discrimination radar, set to be fielded in Alaska by 2019.
(B-roll of the successful missile test, June 22nd – Click to view.)
Life-Saving Combat Rescue Helicopters (CRH): Called a champion of the CRH by Air Force Magazine, Murkowski was pleased to garner $100 million for our combat search and rescue units nationwide. The Alaska Air National Guard, home to the busiest CSAR unit in the entire Air Force, is credited with over 2,000 rescues in the last twenty years and will benefit greatly from the new aircraft.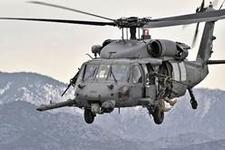 (Combat Rescue Helicopters at Work)
Protecting Alaska's Sustainable Seafood: Senator Murkowski continued her advocacy on behalf of Alaska's fisheries by including an amendment making sure the Department of Defense does not fall prey to third party eco-advocates attempting to cast doubt on Alaska's world-class seafood. Her legislation, which was included in the final bill, prohibits the military from allowing outside influence over how they select which seafood to serve our troops.
C-130 Aircraft Upgrades and Modernization: Senator Murkowski was instrumental in working on an amendment aimed at ensuring our Air National Guard C-130s remain flying after 2020. Without critical upgrades to the C-130 navigation systems, a FAA requirement would essentially ground the fleet when it takes effect in 2020.
Arctic Awareness and Icebreakers: Demonstrating her continued Arctic focus, Senator Murkowski also added language to the bill to express concern at the nation's slow pace in addressing Arctic investment, while requesting the Department of Defense conduct a study of the nation's satellite coverage of the Arctic region as activities increase there. The spending plan also requires the Department of Defense work with the United States Coast Guard to expand its polar-class icebreaker program.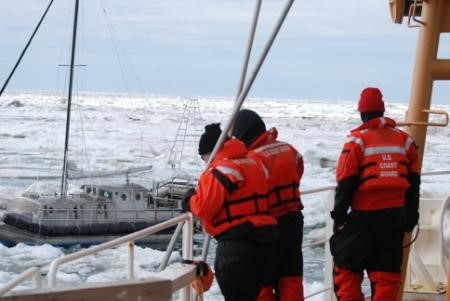 (U.S. Coast Guard Cutter Healy rescuing the sailboat Altan Girl this past weekend.)
Military Pay and Commissary Access: Today's bill contains a one percent pay raise for all military and civilian employees, along with $200 million for on-base commissaries, along with an assurance that no commissaries will be closed without Congressional authorization.
Kodiak Launch Complex Funds: Alaska's Kodiak Launch Complex and the Wallops Island Flight Facility are the nation's only private space launch complexes with FAA licenses. Senator Murkowski successfully included language that will allot $7 million for the infrastructure and overhead at the two facilities so they can continue their critical support of the national security space program.
Lou Gehrig's Disease Research: Given the fact that military members are twice as likely to suffer from ALS than the average population rate, Senator Murkowski asked that Defense funds be increased for research into the devastating disease. Today's bill reflects a 5% increase in Peer Reviewed Medical Research Program study of the ailment.
---