11.09.12
Murkowski's Veterans Spotlight Becoming Alaskan Attraction, Educational Tool
Tribute Series Now Running at Alaska Veterans Museum, Used in Classrooms
WASHINGTON, D.C. – To kick off Veterans Day weekend, Senator Lisa Murkowski has presented her Veteran Spotlight interviews to the Alaska Veterans Museum and is working with Alaskan school districts for it to be used in civics and history classes. The Museum has embraced the interviews as a way to both honor Alaska's veterans and educate the public on military service. As of now, the Kuspuk, Anchorage and Fairbanks North-Star Borough school districts are discussing incorporating the interviews in their lesson plans. Senator Murkowski is honored that her project's momentum is increasing awareness and appreciation of our veterans' sacrifice.
The five interviews completed so far for the Veteran Spotlight project feature Alaskans who served in conflicts ranging from WWII to the Iraq and Afghanistan wars, and are veterans of the Alaska Territorial Guard, Navy and U.S. Army. These interviews, along with all future ones recorded by Murkowski's office will be housed both in the Museum and the Library of Congress so that all Americans can hear firsthand accounts of Alaskans on the front lines.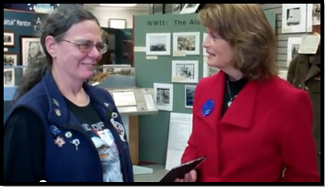 Click the picture above to see video of Senator Murkowski giving the Veteran Spotlight interviews to the Alaska Veterans Museum
"Our State of Alaska has a higher concentration of veterans than any other state, so it is important for their stories to be shared and a tribute to their patriotism," said Sen. Murkowski. "I am so glad that I am able to share some of their stories and their pictures with the state and the nation."
"You gather each veteran's story and all together, they make this beautiful kaleidoscope that shows what service to the nation is in a way you can't do any other way," said Alaska Veterans Museum president Col. Suellyn Novak, USAF (Ret.). "The interviews in the Veteran Spotlight project add to that picture, and we are happy to have them."
"We wish to thank Senator Lisa Murkowski for her meaningful contributions to this national preservation effort," said Col. Bob Patrick, US Army (Ret.), Director of the Veterans History Project at the Library of Congress. "By spotlighting the contributions of Alaskan veterans Sen. Murkowski is ensuring these interviews will be preserved for all times, not just for today, but for all the days to come."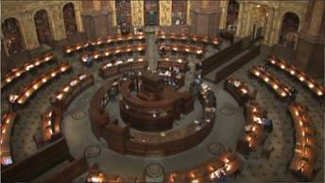 The Main Reading Room at the Library of Congress in Washington, D.C. where the Veteran Spotlight interviews will be housed
The "Veteran Spotlight" project is a monthly focus on an Alaska veteran of conflicts worldwide to draw well-deserved attention to Alaska's men and women who served. Every month, the Senator posts a biography and an interview with an Alaskan veteran, in conjunction with the Library of Congress' Veterans History Project. You can watch them all by clicking here.
Senator Murkowski invites all Alaskans to nominate a veteran from the 49th state to be featured in the Veteran Spotlight project. If you have a family member or friend in the community you think has a story to share, email Spotlight@Murkowski.Senate.Gov.
---