05.04.18
Secretary of Energy Rick Perry Visits Alaska
Firsthand Look at Innovation and Production in Kodiak, Old Harbor, and Prudhoe Bay
U.S. Sen. Lisa Murkowski, R-Alaska, this week hosted U.S. Secretary of Energy Rick Perry in Alaska, his first visit to the state since being confirmed to lead the federal Department of Energy.
Murkowski and Perry in Kodiak
Murkowski and Perry traveled to Kodiak and the small fishing village of Old Harbor on Tuesday, with an itinerary of meetings and site visits focused on a variety of local renewable energy initiatives.
"The best way to learn about Alaska, to truly understand it and grasp its uniqueness, is to see it firsthand," Murkowski said. "I thank Secretary Perry for making this trip to learn more about our state, the hardships imposed by high-cost energy in rural areas, and our ability to produce the resources needed by our communities, our country, and the world."
Hydropower, wind turbines, batteries, and flywheels work together to generate almost 98 percent of Kodiak's electricity. The result is 13 million gallons of diesel fuel saved per year, for an equivalent of $40 million in savings. Old Harbor is one of many Alaska communities with potential to increase its use of hydropower to reduce energy costs, which would save residents money and help boost the local economy.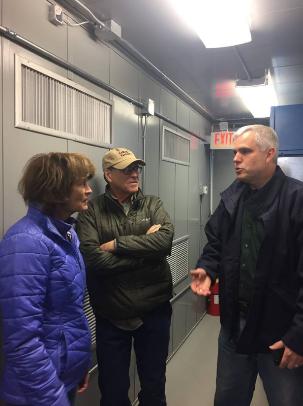 Murkowski and Perry with Kodiak Electric Association
President and CEO Darron Scott
"It was an honor to join Senator Murkowski, Senator Sullivan, and Congressman Young on an amazing tour of Alaska's vast and diverse energy infrastructure," said Secretary Perry. "America's 'all of the above' energy bounty was on full display in the Last Frontier State. While many energy challenges remain in Alaska's remote villages, continued research will only add to Alaska's pointing 'North to the Future.'"
"Old Harbor is currently powered by diesel, but they have an opportunity for a small run-of-the-river hydropower project that could reduce their energy costs from about $0.55 per kilowatt-hour to well below half of that," Murkowski said. "While the remoteness of our state is a challenge, we are blessed with an extraordinary and diverse set of resources, which makes Alaska the perfect testing ground for solutions to achieving more affordable, reliable, and clean energy."
On Tuesday evening, U.S. Sen. Dan Sullivan, R-Alaska, joined Murkowski and Perry for dinner. On Wednesday, Perry visited Prudhoe Bay with Congressman Don Young, R-Alaska, to view the start of the Trans-Alaska Pipeline System. Perry planned to meet Murkowski in Fairbanks on Wednesday afternoon, but mechanical problems with scheduled commercial airline service forced the cancellation of that portion of the itinerary—a true Alaska travel experience.
Murkowski is chairman of the Senate Committee on Energy and Natural Resources. Throughout the trip, she (mostly) resisted the urge to point out that Alaska is more than twice as large as Texas, where Perry served as governor for 14 years.
---