06.22.17
Senator Murkowski Questions Secretary Zinke Over Interior Budget
U.S. Senator Lisa Murkowski (R-AK) chaired the Interior, Environment, and Related Agencies Appropriations Subcommittee hearing on the FY 2018 Budget Request for the Department of the Interior. Her opening remarks reflected Alaskan needs, highlighting areas of concern in the budget, such as the need for adequate funding for the Bureau of Indian Affairs (BIA), and areas of support, such as the proposal to open up the 1002 Area within the Arctic National Wildlife Refuge (ANWR) for energy development.
Murkowski asked Secretary Zinke about his Department's efforts to write a new Five-Year Outer Continental Shelf (OCS) Oil and Gas Leasing Plan, noting that many Alaskans were disappointed by the previous administration's decision to discard sales proposed in the Beaufort and Chukchi seas.
"The budget indicates that you will be devoting resources to re-writing this 5-year plan, which we appreciate. You have to re-write the entire plan. You can't simply amend the existing one. So, where do you see this in terms of timelines, in terms of resources, that will be required to process this review? Do you have an update for me on where we are with the 5-year lease sales?"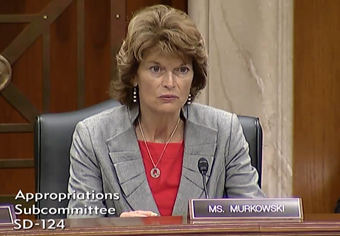 (Click the image to watch the video.)
Zinke responded that the process for a new Five-Year Plan is expected to take two and a half to three years, and that his department is concentrating on being a better partner for states and companies that want to produce America's offshore resources.
Senator Murkowski also raised the issue of co-management of polar bears, requesting Secretary Zinke's commitment to work with Alaska's indigenous populations on this issue. Additionally, the issue of ivory bans was raised. In an effort to protect the Afican Elephant, some states have banned the sale of ivory. While Murkowski made clear for the record that there are no African Elephants in Alaska, the ban has had a detrimental impact on the use of walrus ivory by native artists.
Finally, she questioned Secretary Zinke on specifics in the Bureau of Indian Affairs budget. With the Administration's proposal to eliminate BIA Tribal Court Funding for P.L. 280 states, Murkowski pressed Secretary Zinke about the Administration's request to cut a program that's garnering results.
"I'm a little bit confused about why there would be a specific reduction in this area when again the need is so great, so great. I would really hope to get your commitment that this is a significant priority again in states particularly like Alaska where tribal courts can offer a means of enforcement in areas where we simply have none, and where the local tribal leadership can be an extraordinary assist for us."
Secretary Zinke made clear he sees great value in the pilot programs for tribal courts and committed to working with Senator Murkowski on the issue moving forward.
---