03.05.15
Senators Murkowski, King Announce U.S. Senate Arctic Caucus
Senator on Senate Floor: "We Have the Chance to Write History"
Senators Lisa Murkowski (R-AK) and Angus King (I-ME) today announced they are forming the United States Senate Arctic Caucus in order to open up a broader conversation about the nation's future in the region as the United States prepares to accede to the Chair of the Arctic Council.
"The United States is an Arctic Nation because of Alaska, but the Arctic community is a partner to each and every state; the sooner we fully engage and take on a leadership role, the better," said Senator Murkowski. "There are new possibilities and opportunities emerging in the Arctic, and we have the chance to write history there. The eyes of the world are on the United States, watching whether we will demonstrate a sense of vision there, as nations as varied as Italy and India and Iceland all make major investments in the region. We cannot afford to miss out on the opportunities the Arctic presents to us."
"As the climate changes and Arctic continues to open, the strategic significance of the region will only grow more important," Senator King said. "That presents us with an extraordinary opportunity to work collaboratively with other nations, but it's going to take leadership and preparation on the part of the United States. The creation of the Arctic Caucus is the first step in raising the profile of the issue in Congress, and I look forward to partnering with Senator Murkowski on this important work."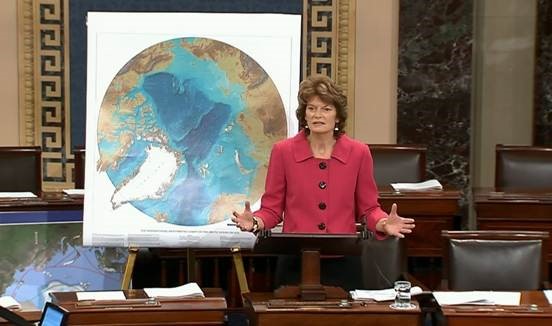 (Murkowski invites colleagues to join U.S. Senate Arctic Caucus – click to watch floor speech.)
The Arctic Caucus's mission will be to convene conversations among Members and staff on defense, science, commerce, trade, environment, maritime affairs, the well-being of the people of the North, and other relevant issues in the Arctic region. Senators Murkowski and King hope to leverage their roles and use the Caucus to recognize the opportunity in an area of the world that has a rich history of collaboration and cooperation, and remains a zone of peace – with the belief that the United States must take a leadership role in guiding international policy decisions relating to the Arctic.
(Senators Murkowski and King attend Consortium for Ocean Leadership Public Policy Forum, with Sherri Goodman, President and CEO of the Consortium for Ocean Leadership.)
---