06.10.15
Subcommittee Advances Chairman Murkowski's Efforts to Restore Denali Name, Honor Governor Jay Hammond
The Senate Energy and Natural Resources Subcommittee on National Parks today received testimony on two bills authored and introduced by Senator Lisa Murkowski, chairman of the full committee.
The first, S. 319 would officially designate North America's highest peak by its traditional Alaska Native name, Denali, meaning "high one." Alaskans already refer to Mount McKinley as Denali and the state of Alaska changed the name of the mountain in 1975, but the U.S. Board on Geographic Names continues to list it as Mount McKinley. Senator Dan Sullivan was a co-sponsor of this effort.
"At home in Alaska, we just call it Denali because it's part of our history. Officially changing the name from Mount McKinley to Mount Denali will show the long-standing significance that the name Denali holds for Alaskans," Murkowski said.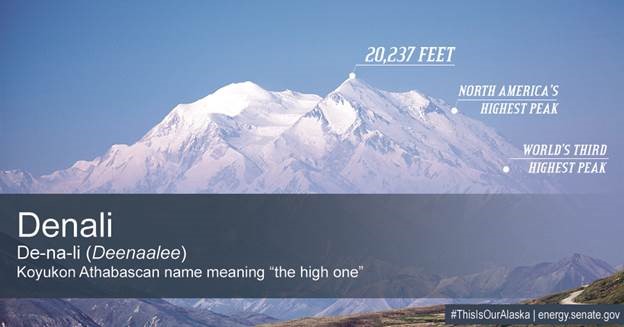 Murkowski's second bill, S. 873, also co-sponsored by Senator Sullivan, would designate the 2.6 million acres of wilderness in the Lake Clark National Park and Preserve as the Jay S. Hammond Wilderness in honor of Alaska's fourth governor. The wilderness represents 60 percent of Lake Clark's 4 million acres. Hammond built a homestead on the shore of Lake Clark.
"As with recognizing the significance of Denali, Alaskans know the important impact former governor Jay Hammond had on our great state," Murkowski said. "Jay was a true Alaska original who did much to shape the state we know and love today, including overseeing construction of the trans-Alaska oil pipeline and creating the nation's largest state park – the 1.6-million acre Wood-Tikchik State Park. It's a fitting honor that the wilderness around Lake Clark, an area Hammond called home for more than 50 years, should be named for him."
Murkowski's legislation was part of a subcommittee on national parks hearing on Wednesday, which, among others, considered the National Park Access Act (S. 145), authored by Senator Jeff Flake (R-AZ). The bill would require the National Park Service to repay the states that kept their local national parks open during the 2013 government shutdown.
---