01.16.14
World War II Veteran: "Freedom Isn't Free; I'm Lucky"
Murkowski Spotlights 91 Year Old "Memphis Belle" Vet on His Birthday
WASHINGTON, DC – Senator Lisa Murkowski is today releasing her 20th Veteran Spotlight interview, focusing on the military service of Anchorage resident and WWII veteran Captain Howard "Mike" Hunt. The honor comes as Hunt celebrates his 91st birthday.
Hunt joined the Army Air Corps, which would eventually become the U.S. Air Force, as a commissioned officer in 1942 when he was 20 years old. As a member of the Air Transport Command Ferry division, Hunt flew all over the world, including missions over Japan, England, India and Alaska. He says he flew "just about everything in the fleet," including the famed Memphis Belle for 10 days during a bomb drive.
During his Veteran Spotlight interview, Hunt recalls several near-death experiences during WWII that he says proves he is one of the lucky ones.
Howard "Mike" Hunt, U.S. Army Air Corps veteran
(Click on image for excerpt of Mike recalling a near death aviation experience.
CLICK HERE for the extended interview)
"You realize freedom isn't free. There are a lot of men and women who gave their ultimate sacrifice so that we may enjoy our freedom today," Said Capt. Hunt. "I am one of the lucky ones. I flew with kind of a religious man and I think the Lord was saving him to do the Lord's work because that is what he did when he got out of the service. He went on to help people, and if we would have crashed on some mountain top, that wouldn't have happened."
Howard "Mike" Hunt in 1942 in Army Flying School
For the last 71 years, Hunt has kept a log book that lists every hour he's spent in the air. After the war, Hunt flew supplies and troops to Japan, then he started an airline with a group of other veterans. It would be the first of several airlines he would build from the ground up in Alaska. Today, Hunt still enjoys working on his airplanes and flying the Alaskan skies he loves.
"Mike Hunt is an American hero and Alaskan aviation pioneer," said Senator Murkowski. "He knew right from the beginning that he wanted to fly and he used that love of the skies to serve our country well during World War Two and he's been flying ever since. We owe it to veterans like Mike to honor them through sharing their stories, and we owe it to the rest of us to learn from the high levels of patriotism, commitment and service they demonstrate for us.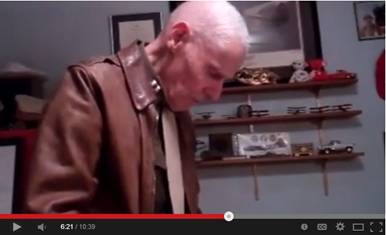 (Click on image for video of Hunt giving a tour of the aviation and WWII memorabilia he has gathered over his 91 years)
The "Veteran Spotlight" project is Senator Murkowski's monthly focus on an Alaska veteran of American conflicts worldwide to honor and draw well-deserved attention to Alaska's men and women who served. It has been named a "Best Practices" example by the Library of Congress Veterans History Project. Today's installment is the twentieth in the series that began on Memorial Day weekend of 2012. Every month, Sen. Murkowski posts a biography and an interview with an Alaskan who served our country abroad, and all of the spotlights can be seen by clicking here.
Senator Murkowski invites all Alaskans to nominate a veteran from the 49th state to be featured in the Veteran Spotlight project. If you have a family member or friend in the community you think has a story to share, email Spotlight@Murkowski.Senate.Gov.
---