02.04.15
Senator Murkowski E-Newsletter for February 4, 2015
An Update from D.C. –
The 114th Congress is off to a running start, and I am optimistic about all the opportunities this presents for Alaska. I am now Chairman of two Committees that hold great potential for positive developments in Alaska: Energy and Natural Resources, as well as Interior Appropriations.
Having oversight of the budgets of the Interior Department, Indian Health Service, Bureau of Indian Affairs, Forest Service, and the EPA is more important than ever right now. Last week, the Obama administration announced that it would be recommending that an additional 12.3 million acres of Arctic National Wildlife Refuge (ANWR), including the 1002 area of the Coastal Plain, be placed into wilderness status – a move that would permanently lock up the nation's richest onshore oil prospect. In another move several days later, the President indefinitely withdrew 9.8 million acres of the Arctic Ocean from oil and gas leasing. The administration is further considering additional actions that would delay new production in the National Petroleum Reserve-Alaska (NPR-A).
These actions by the Administration are an affront to Alaska and our opportunity to access our resources as promised at statehood, and I will join with Alaska's elected officials to fight back in every way possible. This is a triple kick to the gut of Alaska's economy, and I will not stand for it. Alaska has some of, if not the highest environmental standards in the nation, and we have demonstrated time and time again that we can develop our resources responsibly and be stewards of our own land.
(The Alaska Delegation explain to the Capitol Hill press corps the economic threat faced by Alaska – click to watch.)
Keystone XL Pipeline
As the Chairman of the Energy and Natural Resources Committee, I shepherded the first bill of the 114th Congress through the Senate. We moved a bill that would authorize the construction of a trans-boundary pipeline from committee on a bipartisan basis. The bill was then considered on the Senate floor for over two weeks, processing over 40 amendments prior to its passage. In addition to advancing an important jobs bill, I was able to lead the Senate in a return to "regular order" where amendments from both sides are introduced and voted on. In contrast, last year the Democratic-led Senate considered only 15 amendments during the entire year. We demonstrated that legislating, while sometimes contentious and messy, is possible and that gridlock doesn't have to be the norm.
During the Senate's consideration of the Keystone XL infrastructure project, I shared my thoughts about what it means for Alaska. Click here to read.
(It was good to get back to governing and 'regular order' with the Keystone XL pipeline – and voting on Senators' amendments. I shared my thoughts immediately after final passage about the process. Click to watch.)
Hiring Heroes
When our nation's soldiers return home from war, there should be no barriers as they seek a job. I co-sponsored the Hire More Heroes Act to encourage employers to hire more veterans by exempting employees with VA-provided health insurance or Tricare from being counted under the costly employee mandate in the Affordable Care Act. The House version of this bill passed unanimously, so I am optimistic that this effort will also pass the Senate and get to the President's desk. I am hoping this legislation will help employ more veterans, and also help Alaskan businesses cope with the ACA's burdensome employer mandate.
Forty Hours is Full Time
I also recently co-sponsored the bipartisan Forty Hours is Full Time Act to add common sense and consistency to the health care reform bill. Right now, the Affordable Care Act defines "full time" for the purpose of triggering the employer mandate, as 30 hours per week – contrary to traditional notions of full time work. This is resulting in employee hours being cut across our state, whether in customer service or even our school districts.
This legislation does not require that someone must work 40 hours a week in order to receive health insurance; rather, the bill simply changes the manner in which "full time" employees are calculated under the ACA. This is good news for small businesses, and the Alaskans they want to hire.
Better Budgeting
Since 1980, Congress has met the annual budgeting deadlines only once. This history tells us that the current system and schedule is not working. This is why I co-sponsored the bipartisan Biennial Budgeting and Appropriations Act to set funding levels at two-year increments instead of the current twelve months. Whether it was Park Rangers or Bering Sea crabbers or retirees expecting their Social Security checks, Alaskans felt the impact of the federal government shutdown in 2013. We have to move past the last minute, partisan brinksmanship that caused the shutdown in 2013 and created unnecessary anxiety nationwide, and I believe this bill does that. I look forward to working with my colleagues on both sides of the aisle to build a more responsible budget process.
Ted Stevens
I was appalled to hear that two Department of Justice attorneys who were responsible for withholding evidence in the federal trial against Alaska's Senator Ted Stevens had their discipline reversed because of a technicality. The punishment was meager to begin with, and this action does nothing to restore faith in the justice system.
Uncle Ted's trial was one of the highest profile cases in years, so what kind of injustices is the DoJ committing when the eyes of the nation aren't watching? I am committed to ensuring that exculpatory evidence that is required is provided, and I will keep this in mind as I consider the nomination of Loretta Lynch as Attorney General.
Alaska Beer and Barley Wine Festival
As the Co-Chair for the bipartisan Senate Brewers Caucus, I'm glad I was able to attend the capstone event of Alaska Beer Week, the Great Alaska Beer and Barley Wine Festival in Anchorage. The event boasted 75 different brewers and more than 200 beers. I joined over 2,000 Alaskans as we supported these small Alaskan businesses that are vital to our economy. These brewers not only produce great beer, they all give back to their communities in one form or another. An op-ed of mine highlighting the successes of Alaska's small brew industry was published in a number of newspapers. If you missed it, read it here.
(With the beer guru Doctor Fermento himself!)
(Making friends with beer aficionados at the Beer and Barley Wine Festival.)
(With Stephen and June Gerteisen of Arkose Brewery in Palmer.)
Instagram
If you got this e-mail, it's clear you use the Internet. If you use social media, I want you to know I am back up and posting on Instagram. You can keep track of me and my work at: http://instagram.com/lisamurkowski/.
Covenant House Fire and Ice Ball
I attended the Covenant House's Annual Fire and Ice Ball where government officials, business leaders and civic minded Alaskans came together to support the work of Covenant House Alaska. Since 1988, Covenant House Alaska has provided emergency shelter, transitional living, and street intervention services to over 17,000 at risk youth. Covenant House is a lifeline for many young Alaskans—a lifeline to survival in a cold place but also a lifeline to make life changes. Alaska is blessed to have so many incredible social service organizations.
(Toni Logan Goodrich of Oxford Assaying and Refining Corporation was presented with the Individual Philanthropy Award for her hard work and dedicated spirit.)
(With my husband Verne, Jim Ryan, and Kevin Ryan and Peggy Healy of Covenant House International.)
New Staff
With this New Year and new Congress, I have some new faces working for me on Capitol Hill. Joining my staff are Ephraim Froehlich (Juneau), Garrett Boyle (Seward), Phillip Dodd, and Major Taona Enriquez (on assignment from the U.S. Air Force). Their combined expertise covers issues from fisheries to health care and the military. I know they will do great work for Alaska.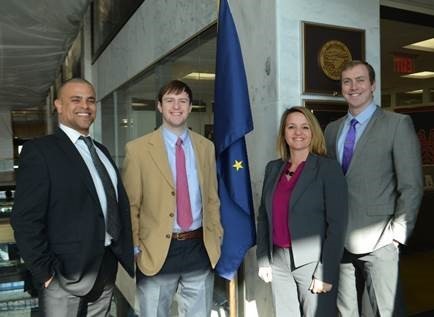 ---