09.01.13
Each Soldier's Life Has Its Own Story, Says Spotlighted Veteran
Murkowski Honors U.S. Air Force Veteran, Pioneer, Veteran Museum Director
WASHINGTON, DC – Senator Lisa Murkowski today is releasing her 15th Veteran Spotlight, featuring Colonel Suellyn Wright Novak of Eagle River, a United States Air Force veteran who served more than 32 years active duty.
During her Veteran Spotlight interview, Novak recalls knowing she wanted to join the Air Force from a very young age. In the 3rd grade, she was asked to draw a picture of what she wanted to be when she grew up. She drew a picture of a "2nd Lieutenant outside a barracks saluting a Major." Suellyn told her teacher she wanted to be a colonel in the Air Force in Alaska – and the teacher was so shocked at the clarity of her vision that she convened a parent-teacher conference where Novak's parents nodded and said that they were aware of the dream of their daughter they nicknamed 'Scooter.' Her father said "Scooter's going to be what Scooter's going to be."
Colonel Suellyn Wright Novak, U.S. Air Force
(Click on image for excerpt of Suellyn talking about the two aspects of the Alaska Veteran Museum she's most proud of. CLICK HERE for the extended interview)

When Novak was studying at a Pennsylvania college in 1971, women were allowed into Reserve Officers' Training Corps (ROTC) for the first time – and she was one of only two girls who joined. She recalls facing criticism and backlash from men who believed the military was no place for women at multiple levels along her professional ascent, but she continued to pursue her dream of becoming a colonel.
Novak was stationed in Turkey during the height of the Cold War, and became Chief of the Air Force Blood Program during the Gulf War. While stationed at Elmendorf Air Force Base in Anchorage, Novak brought frozen blood to South Korea in 1994 after she had done work and research on the freezing method, as a decades-long safeguard for future military medical needs – a vast improvement over the 42 day shelf life of whole blood.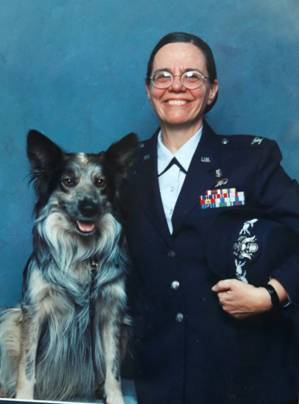 Colonel Novak and her dog Tikchik at her retirement ceremony in 2003
Now retired, Suellyn Wright Novak is now the Executive Director and President of the Alaska Veteran Museum where she is credited for taking the museum from a concept to a reality, striving every day to share Alaskan veteran stories with the state and the nation.
"Each individual human life has its own story," said Colonel Novak, of her work at the museum. "It bothers me when people say 'you glorify war.' No. That is not what this is about. This is about service and sacrifice. We tell human interest stories and we tell about people who always put service above self. Those are the people we remember and memorialize."
"Suellyn Wright Novak's story is one of a true American patriot," said Senator Murkowski. "She blazed trials for women while she served proudly in the Air Force, and she continues to communicate her pride and the pride Americans should have at the Alaska Veterans Museum. She has devoted her life to this state's veterans and preserving our rich military history. We owe it to veterans like Suellyn to honor them through sharing their stories, and we owe it to the rest of us to learn from the high levels of patriotism, commitment and service they demonstrate for us."
The "Veteran Spotlight" project is Senator Murkowski's monthly focus on an Alaska veteran of American conflicts worldwide to honor and draw well-deserved attention to Alaska's men and women who served. Today's installment is the fifteenth in the series that began on Memorial Day weekend of 2012. Every month, Sen. Murkowski posts a biography and an interview with an Alaskan who served our country abroad in conjunction with the Library of Congress' Veterans History Project – which recognized Murkowski's series earlier this year as a model of best practices. You can watch them all by clicking here.
Senator Murkowski invites all Alaskans to nominate a veteran from the 49th state to be featured in the Veteran Spotlight project. If you have a family member or friend in the community you think has a story to share, email Spotlight@Murkowski.Senate.Gov.
# # #
---