06.28.19
Murkowski Backs Effort to Lower Cost of Health Care
Supports Bipartisan Legislation Developed Through the Efforts of 65 Senators
During a Health, Education, Labor, and Pensions (HELP) Committee Executive Session, U.S. Senator Lisa Murkowski (R-AK) voted in favor of the Lower Health Care Costs Act of 2019, legislation aimed at lowering the costs of healthcare by ending surprise medical billing, creating more transparency, and increasing prescription drug competition. The legislation, which includes 54 proposals from 36 Democrats and 29 Republicans, was moved favorably out of committee by a vote 0f 20-3.
"I want to acknowledge the good, bipartisan, constructive work that Chairman Alexander and Ranking Member Murray have ably led. I thank my colleagues for their focus on the issue of lowering healthcare costs across America. This months-long bipartisan effort resulted in a health care package that will increase price transparency, protect patients from getting hit with unexpected medical bills, and lower the costs of prescription drugs. This is a significant effort to address our nation's unacceptably high costs of care." said Senator Murkowski. "This legislation is the result of compromise and while there is more that we must do to reduce the cost of care, this puts us on the path for further discussion on how to provide quality, affordable care for all Americans, in rural and urban communities."
During the hearing, Senator Murkowski acknowledged the Lower Health Care Costs Act of 2019 as a positive first step in addressing America's high costs of healthcare, but reiterated her concerns about the use of a benchmarks to address surprise medical billing due to their potential negative impacts for rural providers in a state like Alaska.
Senator Murkowski highlighted additional amendments that she did not advance in the Committee, on issues she intends to raise with her colleagues as the legislation moves to the Senate floor.
The Senator spoke to provisions that would help address the exorbitant costs that patients face after utilizing air ambulance services. In Alaska, where 82% of communities are not connected by road, an air ambulance or Medivac is often their only route to a hospital. Murkowski recognized the effort to address the issue within the bill, but noted her concern that the current language could unintentionally limit access to these life-saving services.
An additional amendment raised by Senator Murkowski focused on her efforts alongside Senator Durbin (D-IL), to place strong restrictions on e-cigarette and cigar flavorings.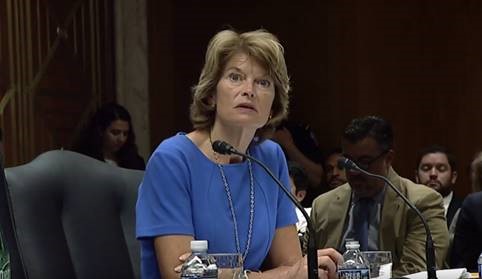 Senator Murkowski helped secure a range of priorities in the Lowering Health Care Costs Act of 2019, including:
Surprise Medical Billing: In May 2019, Senator Murkowski, alongside a bipartisan working group, introduced the STOP Surprise Medical Bills Act, legislation to protect patients from surprise medical bills. Although the Lower Health Care Costs Act of 2019 did not include the framework selected by the bipartisan group, Senator Murkowski was encouraged to see the issue addressed in the package, and will continue working to ensure a balanced solution as the bill moves to the floor.
Native American Suicide Prevention – The legislation includes key provisions from the Native American Suicide Prevention Act which was re-introduced by Senators Murkowski and Warren (D-MA) in February, 2019. This legislation ensures those who receive SAMSHA grants for youth suicide prevention will be required to consult or confer with Indian Tribes, Tribal Organizations, and Urban Indian organizations on the implementation of statewide suicide prevention programs.
Community Health Centers and Special Diabetes Program for Indians: In April, 2019, Murkowski co-sponsored the Community and Public Health Programs Extension Act, introduced by Senators Alexander (R-TN) and Murray (D-WA), which extends federal funding for community health centers, special diabetes programs for Indians and three other federal health programs, for five years.
Telehealth: To increase access to health care services in rural areas such as remote Alaska, Murkowski introduced the Expanding Capacity for Health Outcomes Act of 2019 (ECHO 2019 Act) alongside Senators Schatz (D-HI) and Kaine (D-VA), which expands the use of technology-based collaborative learning and capacity building models.
Biologic Patent Transparency: In a bipartisan effort to put an end to patent strategies that block new drugs from coming to market and to boost competition in the prescription drug marketplace, Murkowski co-sponsored the Biologic Patent Transparency Act, bipartisan legislation introduced by Senators Collins (R-ME) and Kaine (D-VA). Key provisions from this act were included in the legislation.
Drug Price Transparency: Senator Murkowski co-sponsored the FAIR Drug Pricing Act introduced by Senators Baldwin (D-WI) and Braun (R-IN), bipartisan, bicameral, legislation that aims to help address skyrocketing prescription drug prices by requiring transparency for pharmaceutical corporations that plan to increase drug prices.
The committee also approved the following bills today:
The Emergency Medical Services for Children Program Reauthorization Act of 2019: Introduced by Senators Alexander (R-TN) and Casey (D-PA) to extend funding for grants that ensure that emergency health care providers, from the ambulance to the emergency room, are prepared with the necessary equipment and proper doses of medicine to treat children.
The Poison Center Network Enhancement Act of 2019: Introduced by Senators Murray (D-WA) and Burr (R-NC) to strengthen the network of 55 poison control centers across the country in the wake of a public health emergency and to help each center prevent and respond to toxic exposures and poisonings.
###
Note: Please do not reply to this email. This mailbox is unattended. For further information, please contact Senator Murkowski's press office at 202-224-9301 or 202-224-8069. Visit our website at http://murkowski.senate.gov
Related Issues: Health
---