05.21.12
Murkowski Meets With U.S. Air Force Chief of Staff, Stresses Questions Remain on F-16s
WASHINGTON, D.C. –Senator Lisa Murkowski today sat down with United States Air Force Chief of Staff General Norton Schwartz and bore down on the proposed move of the F-16 Aggressor Squadron from Eielson Air Force Base to Joint Base Elmendorf Richardson. During their conversation, General Schwartz noted that Eielson remains important to the military due to the Administration's focus on the Asia-Pacific region and acknowledged that variables remain in the Air Force's proposal to move the F-16 Aggressor Squadron from Eielson.
Following the meeting, Senator Murkowski noted, "the lack of information and continuously shifting numbers raise concerns and make Alaskans think this isn't the air-tight case that they would like a move of this significance to be. I continue to believe that all questions should be fully answered before this proposal becomes reality."
This wasn't the first time the Senator inquired about the approach being taken by the United States Air Force. In the Senate Military Construction Appropriations Subcommittee earlier this year (below), Murkowski said the numbers being used in this proposal closely resemble the 2005 BRAC attempt of Eielson – and asked whether any numbers have changed on the ground that should justify the F-16s moved to Anchorage. She has also sent letters to the Air Force asking detailed questions relating to the move and expressing concern that this move by the Air Force is a "backdoor BRAC," where the move doesn't technically qualify as a move requiring Congressional involvement – but has the same eventual effects.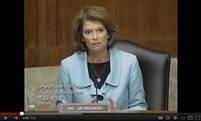 (Click box to watch)
###
---